I'm obsessed with my dog, Charlotte.  Like, obnoxiously obsessed.  She's with me almost 24/7 and I can't imagine my life without her.
A couple weeks ago she went in for her yearly check-up.  The vet found a a cracked tooth in the back of her mouth that he thought might become infected if not removed.  So, I scheduled an appointment for her to have surgery and didn't think much more of it.
The following week, Charlotte went in for surgery.  I was a wreck.  It was a minor surgery, but surgery under anesthesia nonetheless.  Luckily, everything went fine.  It turns out, her tooth was already majorly infected all the way up through her nasal cavity.  Now, before you judge me as a bad dog-mom, she showed absolutely no signs of illness or injury.  She ate normally, ran, played with toys, and never missed a beat.  Even the vet didn't notice any signs that it was already infected.
I'm thankful we were able to catch this and she is back to her usual, energetic, healthy self.  For the next couple weeks following surgery, she could only eat soft foods.  Luckily, I had recently made these dog treats and they are the perfect soft, tasty dog treat.
Homemade Pumpkin Dog Treats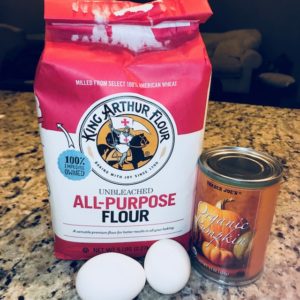 Ingredients:
2 eggs
half a can of pumpkin puree
2 cups all purpose wheat flour
1/4 cup of water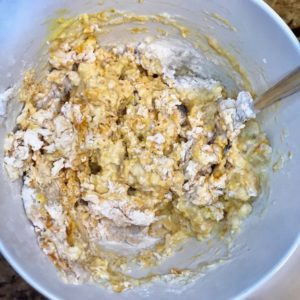 Mix all ingredients together in a bowl.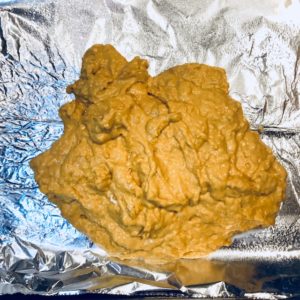 Once mixed, pour onto baking sheet.  I poured on to aluminum foil because I'm lazy, didn't want to wash a pan, and didn't have parchment paper.
Using a knife or whatever kitchen tool you have, spread mix out evenly on baking sheet. Then, bake for about 25 minutes (or until done) at 350° F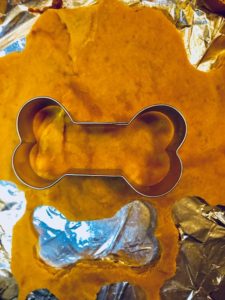 If your mix comes out thick enough before baking, you can shape then.  But, I just prefer how they look when I cut out the bone shapes after.  To do this, let cool for about 15 minutes and you're good to go!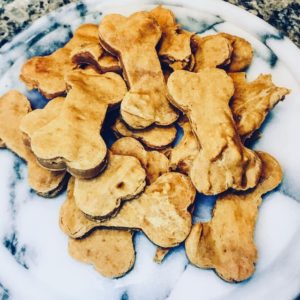 You can buy the dog bone cookie cutter here: